Relief Factor Review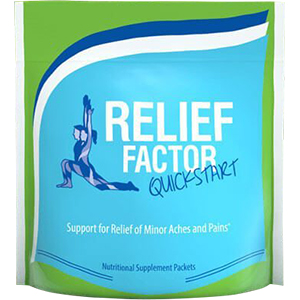 Visit Site
We consider Relief Factor to be a better quality joint health product because of the use of some beneficial ingredients for reducing pain and inflammation, promoting healing and assisting with other symptoms associated with joint discomfort. They have included Turmeric, Resveratrol, Icariin, and Omega-3. However, it fails to provide any of the key, clinically-proven ingredients for joint health such as Glucosamine, MSM, and Chondroitin Sulfate which are crucial for preventing further joint deterioration as well as helping maintain and repair cartilage. We believed this lowered the value of the product. The drawback is that consumers may need to complement this with an additional supplement.
One aspect that we seriously dislike about this product is the 3-week Quick Start program where it seems you can buy the product for a discounted price. However, the finer details state that if you don't cancel your order after these initial 3 weeks, you will automatically be billed the very high price of $79.95 plus $6.95 shipping every month when you receive your monthly supply. We are opposed to these automatic shipping schemes as we believe they could be a way to "trick" unknowing customers who don't read the fine print. They may also be difficult to cancel. It is always a better idea for the customer to be in control of when their credit card is billed. Continue reading for the full details about Relief Factor.
Is Relief Factor Effective?
This product contains well-known anti-inflammatory and antioxidant ingredients such as Turmeric, Omega-3, and Resveratrol. These ingredients should be beneficial for relieving pain and discomfort, however, they don't provide much benefit for the long-term strength of the joints to prevent further deterioration. We would have liked to see the inclusion of Glucosamine, Chondroitin, and MSM which have been clinically studied and shown to improve the strength of the joints as well as help slow down deterioration over time. These key ingredients are essential for the long-term health of the joints, yet they are missing from this product which knocks it down a few points.
Relief Factor might have a little better luck with effectiveness if they included more key ingredients. It seems like it could potentially help alleviate pain, but not do much for strengthening the joints and providing long-term support.
Is Relief Factor Safe?
We did not find any ingredients in this product that would cause it to be unsafe, such as un-certified stimulant ingredients or other questionable herbs. As for the ingredients in general, when in their pure form, they are deemed to be a safe supplement if taken according to proper recommendations. There are no reported side effects and they can be taken with most medications.
There is a warning on the label that people with sensitive stomachs should take this product with food. Those with allergies to fish and soy should not use this product.